Web Designs that are beautiful, responsive, and optimized
Web development services are widely used by businesses to create, build, maintain, and improve a wide range of web-based applications. Rahazul Rahu has a wealth of experience in web development and is able to create user-friendly and quick websites, online portals, and other web solutions that help businesses adapt into the digital age.
Our web design and development services include professionally designed websites created by our expert graphic designers, as well as 50+ mockups for local businesses in various industries.
We've been on the web for a long time and have observed how websites have grown. This information is put to use in the creation of the greatest web design and top-tier platforms for enterprises. We handle your outsourced web design projects with our team of designers and engineers, and we deliver your websites using an agile development technique.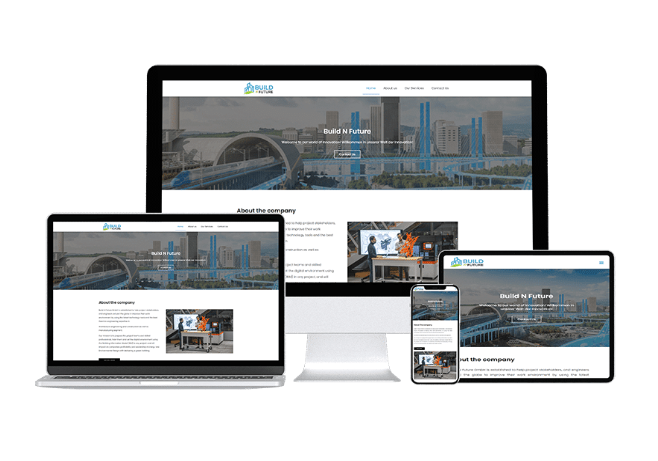 LANDING PAGES THAT CONVERT TRAFFIC INTO LEADS
Do you require a page that encourages conversions? We'll take care of everything.
Our website design services include the creation and deployment of high-converting landing pages for use with sponsored ads and email marketing. You may have these landing sites up and running for promotional campaigns in as little as 3 to 5 days.
Our website development process
Our expert team of professionals are ready to work with you to design an exceptionally well-performing website, that will ensure that you are highlighted among your competitors. We have a crystal-clear web design working process that will be easy for you to grasp.
We will start by assessing your company and set up achievable goals and targets. We will follow that with in-depth research of your current consumer market and competition. Our expert team will finish this step by setting up an effective plan for your website.
At this stage we will begin to design the layout of website. We will begin with building the right sitemap for your website and then follow up with some design inspiration to design the wireframe of your website. Our design layout will ensure proper optimization of your content and product display.
This is where our expert team take on the most tasks. They build and write codes that will make your website very efficient and speedy. The website will be responsive on all devices including mobiles, tablets and PCs. The development process also includes creating a database and custom fields.
At this stage we will test that the website works perfectly on all browsers and devices including desktop, tablet and mobile. Next, we will be ready to take our website online. After the site is live it can be maintained continually by running user testing on new content and features.
5 Keys to Expert Web Design
Our years of experience in building websites have taught us that to build a superior website for our clients that positions them above the competition, we need the following ingredients:
You only have one chance to make a great first impression. Are your site visitors saying WOW! or OW!? when do they see your site for the first time? People make immediate decisions about the credibility of your company, brand, and products when they see your website. As a business owner, you must ensure your web design captures your target audience's attention and entices them to explore your website.
If your site can't be easily navigated and your valuable content can't be easily found, then your users will go elsewhere. Don't let this be the case. At RN Agency, we work hard to plan and build intuitive, simple, and easy-to-navigate websites. We want our users to feel like everything is right where they expect it to be.
HIGH-QUALITY, OPTIMIZED CONTENT
Investing in beautiful website design and neglecting the content is like buying a car without an engine. A superior website has compelling and concise content with clear CTAs. When you work with us, our website design experts work closely with you to ensure your site content is well-written, search-engine-optimized, and created with clear business objectives in mind.
CONVERSION OF VISITORS INTO CUSTOMERS
Early on in the planning process, we determine what a "conversion" or CTA looks like for your website. It could be to submit a lead form, make a phone call or purchase a product. We then keep that goal in mind for the entire process, from design and coding to content writing. We want your website to be the primary tool for growth in your company.
At RN Agency, we want to see your new website rise to the next level. To do that, we need lots of quality traffic. Our WordPress web design company works with you to establish an ongoing internet marketing plan that includes SEO, branding, social media marketing, email marketing, and more.
So, ready to take your idea to a new level?
If you are looking to increase your traffic, sales & leads, let's have a chat!